Thursday 11/18 – Update: Moshe Zeines, was released without bail.
Wednesday 11/17– Moshe Zeines, a familiar news reporter and crossing guard was arrested and incarcerated on Monday and is awaiting a bail hearing scheduled for today. Moshe, has been dogging the efforts of developers, including those of community activists Chaim Gross, Shmuel Werdiger, and Moshe Tress, to build a mega residential complex on Route 88.
The neighbors of that development challenged the application at a hearing of the Planning Board because of the traffic it would cause in adding 99 more residences to an already dense area; then, the neighbors took it to court. Finally, the neighbors settled in court after the Developers signed off on significant changes to the plan- this would not have happened without Moshe's efforts. This enraged the above mentioned community activists, Tress and Gross, and they are on a mission to destroy Moshe.
Two weeks ago Mr. Chaim Gross and Mr. Moshe Tress paid and directed a 15-year-old boy to text Moshe with an illicit suggestion – endangering the welfare of the boy. The activists then cornered the defendant with threats of exposure unless he left Lakewood, signs that he would not report on Lakewood matters, demanded he divorce his wife immediately, took away his phone, and forced him to give them his passwords. Moshe, who was terrified, caved in.
Mr. Tress had his friends at the Beis Hava'ad Rabbinical court emergently facilitated a divorce, which was done within 48 hours. (Lately, the Beis Hava'ad embarked on a new initiative of expedited divorces for a ridiculous price, less than $800 per spouse. This price includes both the religious and civil parts. Couples are divorced within 24-48 hours). The Get is not kosher as it was obtained by force.
Claims by Defendant of Rumor Spreading
In the meantime, the defendant, Moshe Zeines, has initiated a claim in the Rabbinical Court of Rabbi Yisroel Knopfler of the Lakewood Badatz Court against Mr. Chaim Gross and against Rabbi Dov Kahan, Dean of Beis Din Meyshorim, for initiating and fueling a vicious campaign against the defendant that has reached such a fever pitch as to cause the defendant's wife to file for a divorce which was facilitated emergently by Bais Hava'ad of Lakewood.
Rabbi Kahan, who was furious for being called to a din Torah, organized a group of minors to riot against Moshe and pelt him with eggs in an act of revenge. As the word spread amongst other youths in Lakewood, it elicited protests and shouts in front of Moshe's residence.
When Moshe did not back out of the hazmanah l'din, Rabbi Kahan went to the Lakewood Police department with Moshe's phone showing them an inappropriate picture that was texted to a minor. Together with Gross and Tress, they convinced the Police Department to sign a warrant for Moshe's arrest. The defendant is currently incarcerated, awaiting a bail hearing scheduled for today at the Lakewood Municipal Court.
It is unclear how the prosecution can stand as the information was obtained illegally by utilizing force which also questions the chain of custody. (Also to be determined if the picture was sent by Moshe or was it planted on the phone by his adversaries who by now had his phone in their possession for days.)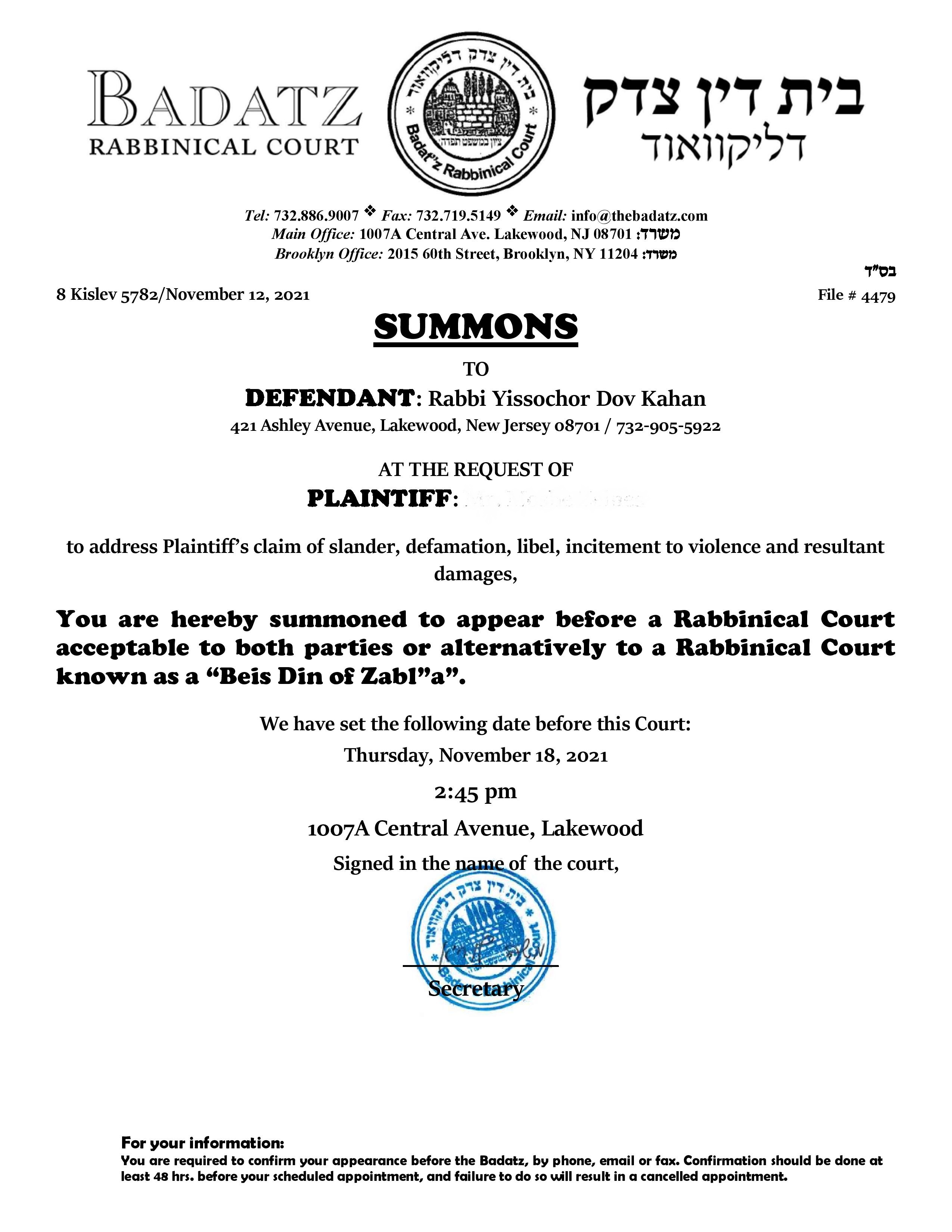 Rabbi Kahan, who has embarked on a fiery campaign against the defendant, has yet to respond to the justification and evidence of wrongdoing by Mr. Zeines.
Beis Hava'ad has not responded to our questions as to the justification of destroying a family with little children within 48 hours.
Gross and Tress have not responded to our request for comment.
As of yet, some details are unknown and as we investigate we will update with more accurate information.