Make no mistake; the children produced in the Public Schools of the United States, their intellectual development, their thought processes, will effect life in these United States in the future.
The Hitler Youth program which began in Berlin nearly 10 years prior to WWII, shaped the thought process of an entire generation of Germans.
We are about to display a story published in The Epoch Times about the L.A. Unified School System, that was deliberately planned and managed to get to this point. THIS CAN AND WILL HAPPEN IN NY AND NJ.
PUBLISHED BY THE EPOCH TIMES Copyright © 2000 – 2022
LA Unified Temporarily Fills Most Teacher Vacancies With Credentialed, Non-Teaching Staff
By Micaela Ricaforte 
LOS ANGELES—The Los Angeles Unified School District has filled nearly all its vacant teaching positions by reassigning qualified staff in non-teaching positions to classroom vacancies, district officials announced on April 26.
Earlier this month, LAUSD Superintendent Alberto Carvalho—who took office in February—announced plans to fill 426 vacant teaching positions with administrators and other staff as a part of his 100-day plan to address the district's teacher shortage.
During an April 26 LAUSD Board of Education meeting, the district's Human Resources Chief Ileana Davalos said 416—or 98 percent—of those vacancies have been filled, with the remaining ten classroom reassignments to be finalized within the week.
Davalos said the district reassigned only the staff who already have teaching credentials issued by the state and prioritized staffing among middle schools with more economically disadvantaged students.
According to a staffing report presented by Davalos (pdf), secondary schools with more high-need students—including homeless youth, foster youth, and students who are economically disadvantaged or chronically absent—have the highest number of teacher vacancies, totaling 111 as of March 28.
Davalos said the district prioritized staffing those schools, along with elementary schools and special needs programs.
The reassigned staff will be teaching in classrooms until the school year ends on June 10.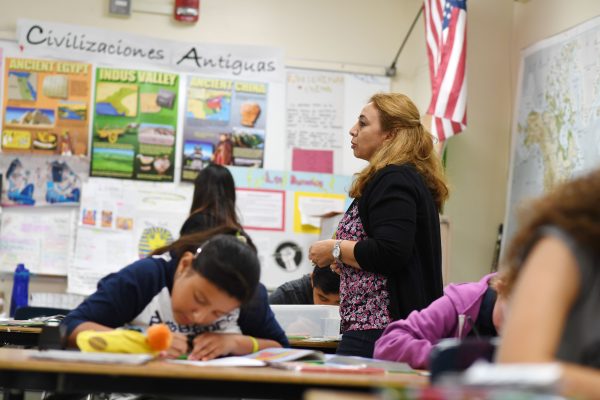 Board member Tanya Ortiz Franklin said during the meeting she was "very overjoyed" to hear the news.
"You know, staffing has been a concern of mine … since June, and I'm so super grateful for the team to make some quick strategic moves to fill our classroom vacancies this year," Franklin said.
Bryan Johnson, the director of Certificated Workforce Management, which is responsible for the district's recruitment, said during the meeting he hopes to fill all vacant teaching positions with permanent new hires by the beginning of next school year and release the reassigned staff back to their previous positions.
Meanwhile, the district is working with local universities to permanently fill vacancies with newly graduated teachers, according to Johnson.
Davalos, the human resources chief officer, also said she was "proud" of the fact that the district has hired more than 2,400 classroom teachers this year to date—a more than 50 percent increase in the number of hired teachers from last year.
However, only 26 percent of those newly hired teachers are fully credentialed by the state to teach at the time of hire, according to a March 29 report by the district's Board of Education.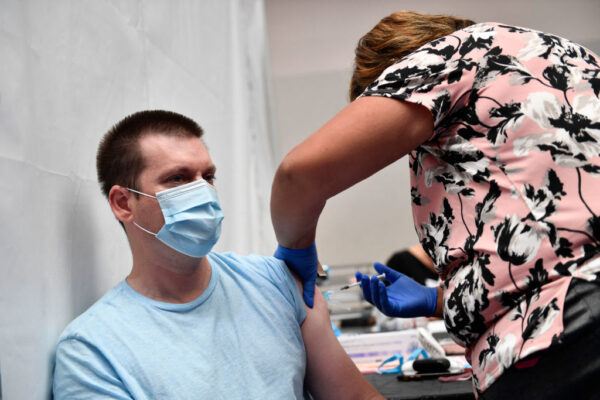 Carvalho's plan to fill teaching positions with administrative staff and hire uncredentialed teachers received backlash from teachers who were forced to teach online due to a COVID-19 vaccine mandate for all district staff.
Earlier this month, teacher advocacy group Los Angeles Educators and Parents United gathered outside the LAUSD headquarters, calling on the district to end the COVID-19 vaccine mandate and let unvaccinated teachers return to school campuses to help with the worsening teacher shortage.
Since November, the district has fired 800 staff members for non-compliance with the mandate, and about 600 teachers were forced to move out of classrooms to teach remotely in the City of Angels, the district's online learning program, according to LAUSD teacher Francis Moreno, a member of the teacher advocacy group.
A spokesperson for the LAUSD did not respond to a request for comment by press deadline.