BY ALEX WU May 5, 2021
Updated: May 5, 2021
After triggering a strong backlash both domestically and abroad, the Chinese regime deleted social media posts mocking India's COVID-19 crisis; when questioned by foreign media, the regime's Ministry of Foreign Affairs tried to divert attention away from the posts.
On May 1, the Chinese Communist Party (CCP)'s Central Political and Legal Affairs Commission posted on its official Sina Weibo account "China Changan Net" two pictures next to each other. On the left side is the scene of China's rocket as it ignites and lifts off, and on the right is the scene of Indian staff wearing protective clothing and igniting a cremation pyre of victims who died from COVID-19. It's entitled "Lighting a fire in China vs. lighting a fire in India," with a hashtag noting that new COVID-19 cases in India had surpassed 400,000 a day.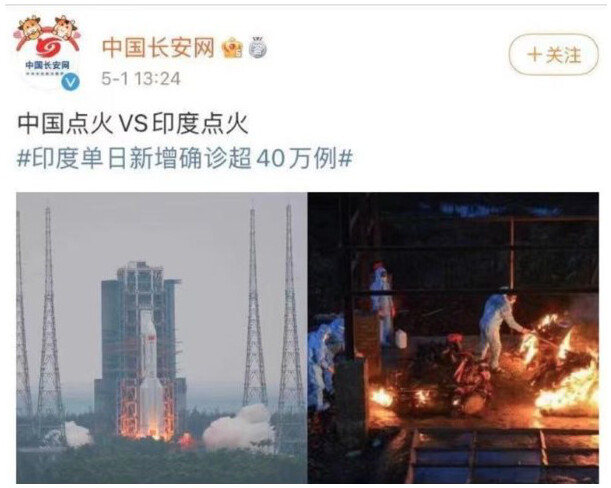 This post angered netizens both in China and abroad, who denounced the regime organ for "total lack of humanity." The Indian Embassy to China protested against the "China Changan Net" Weibo post, which was subsequently deleted.
The official accounts of the CCP's Ministry of Public Security also posted similar comparisons on April 30. After the backlash from Chinese netizens, the posts were deleted on the night of May 1.
Cai Xia, a former professor at the Central Party School of the CCP and a vocal critic of the communist regime who currently lives in the United States, criticized the posts on twitter. She said that although the posts were deleted by the Chinese regime, they are still being reposted online by netizens who condemned them for a lack of humanity. She compared the Indian Embassy's encouraging comment while sending aid to China in February 2020 when the epidemic was raging in China with the CCP's mockery when the Indians were suffering. "They made no secret of their evil nature of anti-humanity," she commented.
Hong Kong media Apple Daily commented that such a cruel post is an attack by the Chinese regime amid the tension between China and India, and it is also in line with the regime's "wolf warrior" behavior.
Chinese netizens also blasted the post, "As the official Weibo of the Chinese Political and Legal Committee News, your remarks are really embarrassing. Don't you have basic humanistic care!?"
Others said that they had reported this post to Weibo for "promoting hatred" and "regional discrimination."
Another netizen said, "China Changan Net does not represent the Chinese people. I hope that the Indian people will be free of COVID-19 as soon as possible."
On May 2, China's foreign ministry said in response to a request for comment by Bloomberg, "We hope everyone gives attention to the Chinese government and mainstream public opinion supporting India's fight against the epidemic," and promised to send more supplies to India in the coming days.
Last week when a massive COVID-19 surge started in India, Chinese state-run Sichuan Airlines suspended cargo flights to India, while other countries have been dispatching flights loaded with medical supplies.
Last year, the Chinese and Indian military had the most serious border conflicts in 45 years, causing dozens of death and casualties on both sides.
According to data from Johns Hopkins University, India has 20.2 million cases, second only to the United States, and currently has more than 222,400 deaths as of May 4.
Research on the spread of COVID-19 in Wuhan China showed that as many as 6.92 percent of the population had been infected with the CCP virus, and based on that infection rate as many as 622,800 to 968,800 people could have been infected with the CCP virus by April 2020 in Wuhan alone. This study published in The Lancet on March 18 revealed that the true data on the number of Chinese people infected with COVID-19 differs from the Chinese regime's disclosures.