BY EMEL AKAN July 8, 2021 Updated: July 8, 2021
The cost of renting a home continues to rise in the United States as more people return to work in metro areas, boosting demand for rental apartments.
A sustained increase in rents could lead to more persistent inflation and challenge the central bank's view that inflation is "transitory," experts say.
Rents dropped significantly during the pandemic across the country, with large cities such as San Francisco and New York leading the nation. As of June, however, the median national rent was up 8.4 percent year-over-year, according to Apartment List, an online rental marketplace.
The "pandemic pricing" is over in many cities, and the market is quickly returning back to pre-pandemic levels, according to Rob Warnock, researcher at Apartment List. For example, rents were up more than 4 percent in New York and Seattle in June only, recovering much faster than expected.
The consumer price index (CPI) in May rose by 5 percent from a year ago, surprising many economists. Fitch Ratings expects inflation to fall in 2022. But in a recent report, the credit-ratings firm warned that rent and wage inflation could pick up significantly next year, posing a risk to the economy.
Brian Coulton, chief economist at Fitch, is "pretty confident" in his judgment that there will be less upward pressure on prices of goods across the economy as demand will weaken and supply chain disruptions will ease next year.
However, "what could lead to a more sustained rise in U.S. inflation will be if the services side picks up," Coulton told The Epoch Times, noting that rent and wage inflation are key for the services sector.
Cost of shelter (including rent) is a major component of the CPI market basket, having a 42 percent weight. And rent tends to be a more persistent part of inflation, as price increases are hard to reverse.
Before the pandemic, rent inflation was running about 3 percent annually and went down to nearly 2 percent last year. It's now edging back up again. If the rate goes back quickly to 3 percent or even higher levels, that would have a dramatic impact on the CPI overall, Coulton said.
The official measure of rent inflation is still low and has not reflected the steep increases observed in many cities.
While rent inflation remains subdued and poses a low risk at the moment, changes in the labor market and wages are important areas to monitor in the coming months, according to Coulton.
"In the United States, rent inflation historically tracks wages much more closely than house prices," he said.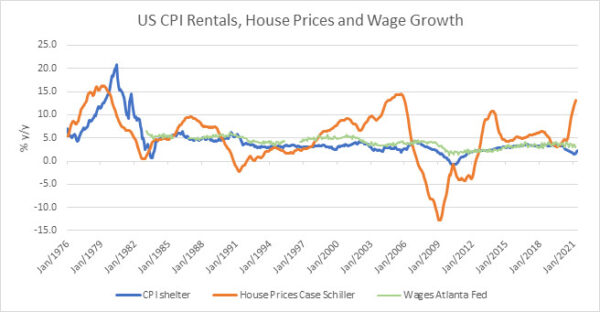 Average hourly earnings in June were up 3.6 percent annually, slightly higher than the trend before the pandemic.
Widespread labor shortages, however, have led companies to boost wages, which could further intensify inflation pressures. There's an imbalance between supply and demand for labor, pressuring more companies to advertise higher wages, bonuses, and other incentives in job postings.
Record Home Prices
Soaring home prices in big cities are also pushing people to the rental market. The median sale price for existing homes in May was $350,300, up 23.6 percent from a year ago, according to the National Association of Realtors (NAR).
"It is harder for people to become homeowners, and that difficulty will continue to prop up rent prices," Gay Cororaton, senior economist and research director at the NAR, told The Epoch Times.
While mortgage rates are historically low, it's become harder for people to make a down payment, she said.
Rent prices are spiking particularly in large business centers such as New York, San Francisco, Seattle, and Austin, as companies are pushing their employees to return to the office.
Working from home during the pandemic has become a standard practice for many Americans. However, there's a lack of consensus among company executives about how well remote work flexibility worked during the pandemic.
Meanwhile, many surveys have shown that this new mode of employment will stick even after the pandemic, as workers prefer to keep the flexibility.
"Companies are still formulating their work-from-home policies. So that's why you can see that the office market is still down. Office vacancy rates are still at about 18 percent," Cororaton said, adding that company policies will have a large impact on the housing market.
The work-from-home trend has weakened the link between job choice and housing choice, according to a recent report by Apartment List.
"Understanding the geographic preferences of this group is now more important than ever, as their migration trends will have the potential to disrupt housing markets across the country," the report stated.
Aleksandra Scepanovic, who runs Brooklyn real estate firm Ideal Properties Group, said that while rents are slowly starting to climb, they're still not at the rate they would have been in pre-pandemic summers.
However, she expects the rent surge to continue.
"Landlords have been the dam holding the turbulent waters of the NYC real estate market during the most unprecedented of times," she told The Epoch Times.
"At the same time, the city has added financial burdens to the landlords' bottom line, and one would expect this to trickle up into the overall rent prices."