By Jeff Louderback May 3, 2022 Updated: May 4, 2022
CINCINNATI, Ohio—J.D. Vance, the Hillbilly Elegy author and venture capitalist who secured the endorsement of Donald Trump, defeated Josh Mandel and five other opponents in the contentious Ohio GOP U.S. Senate primary on May 3.
The Ohio GOP U.S. Senate primary represented the first test of Donald Trump's influence in the 2022 midterm election cycle, and Vance held the lead from the moment initial results were released.
He will now face Rep. Tim Ryan (D–Ohio), who handily defeated Morgan Harper and Traci Johnson in the Democratic party primary.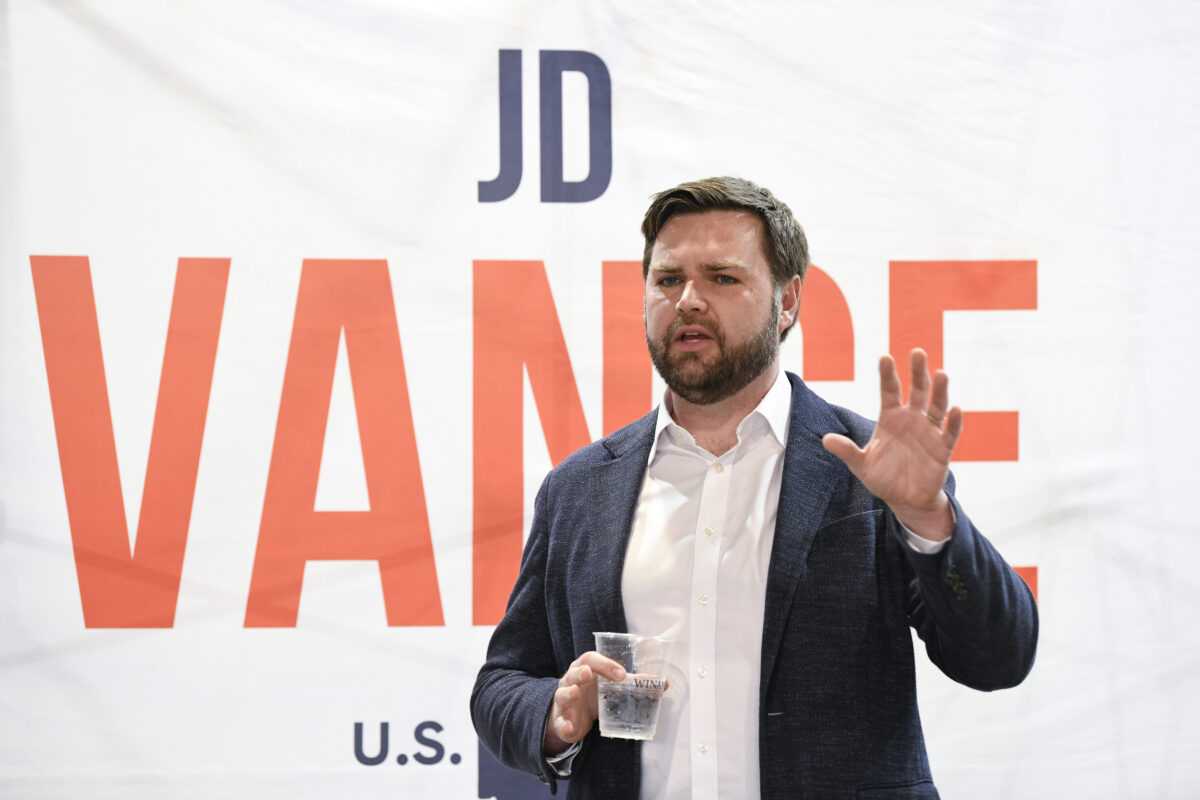 "I've got to thank the 45th, the President of the United States, Donald J. Trump," Vance said at his victory party at the Duke Energy Convention Center in Cincinnati, 45 minutes south of where he grew up in Middletown. "The fake news wanted to write a story that this campaign would be the death of the America First agenda. Ladies and gentlemen, it ain't the death of the America First agenda."
The race is already the most expensive in state history with more than $66 million in TV and radio spending, Columbus-based Medium Buying firm reported.
Vance praised opponents Mandel, Mike Gibbons, Matt Dolan, and Jane Timken for the campaigns they ran, though he did call out Club for Growth, the pro-Mandel Washington D.C.- based PAC that spent millions of dollars on attack ads directed at Vance.
"Do we want a Republican party with donors who write checks for the Club for Growth, or Club for Chinese Growth, or a Republican party that fights for the people of Ohio?" Vance said.
At the end of his victory party speech, Vance called for unity in a divided Ohio Republican party.
"Let's be honest, Tim Ryan is running as a Trump Democrat," Vance said. "He consistently votes with Joe Biden."
Vance said that he will celebrate with his family and his supporters, and then launch his general election campaign on May 4.
"Ohio is a beautiful state. I got to meet people from all over during this campaign," he said. "When I've traveled around the state, people have looked me in the eye and told me, 'Please don't forget about me.'
"I promise you that I will remember where I came from, I will remember who made me who I am, and I will not forget about Ohioans when I win in November and go to the U.S. Senate."