By Ranjeetha Pakiam
Updated on March 11, 2021, 2:09 AM EST
GC1Gold1,733.30USD/t oz.+11.50+0.67%BBDXYBloomberg Dollar Spot1,138.92USD-3.14-0.27%SI1Generic 1st 'SI' Future26.39USD/t oz.+0.26+1.00%
Gold climbed for a third day as investors weighed the prospects of further U.S. stimulus and the latest reading on inflation.
Joe Biden's $1.9 trillion Covid-19 relief bill cleared its final congressional hurdle Wednesday, with the House passing the bill on a 220-to-211 vote, sending it to the president to be signed, which he plans to do on Friday. Still, the partisan divide over the bill foreshadows the difficulty Biden will have in enacting the multi-trillion dollar, longer-term economic program he wants later this year.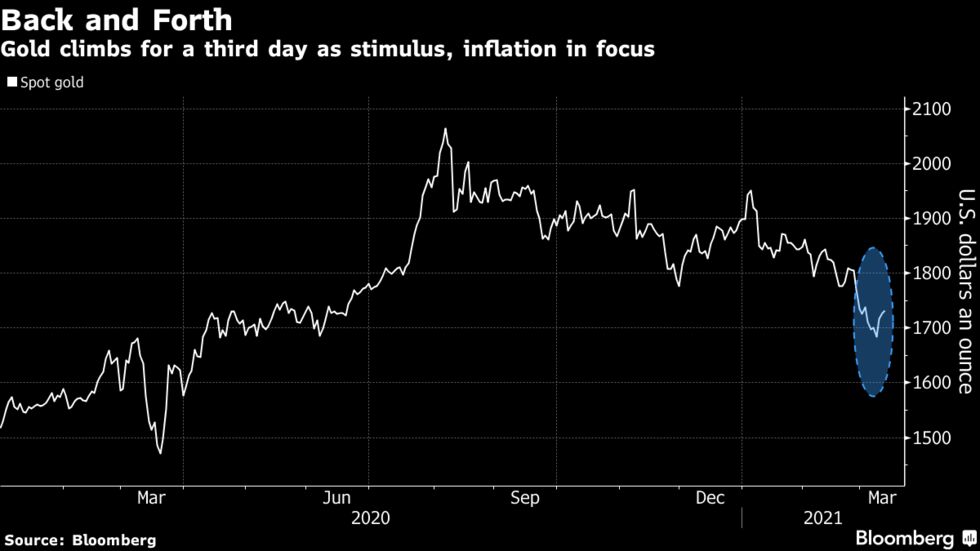 Meanwhile, a key measure of U.S. consumer prices rose less than expected in February as costs of used vehicles, clothing and transportation services declined from a month earlier, suggesting broader inflationary pressures remain tame. This likely eased some concerns over economic overheating, given the sheer size of the overall stimulus package.
Bullion's movements have recently been dictated by the dollar and bond yields, with the latter's rise to the highest level in a year weighing on demand for the precious metal which doesn't offer interest. Bets on rising inflation provided some support for gold as a hedge, but the overarching optimism over an economic recovery following the roll-out of vaccines has seen diminishing investor interest for the traditional haven.
"The U.S. core inflation had missed consensus against earlier fears of a bigger than expected jump, helping bond yields edge lower and thereby the greenback as well," said Jingyi Pan, market strategist at IG Asia Pte. "In turn, we have seen gold prices trade higher, though it is not out of the woods yet with the greenback still having the potential to continue the climb amid the rising bond yield trajectory expected by the market. Some back and forth here for prices should not be ruled out."
Spot gold rose 0.4% to $1,733.57 an ounce by 6:38 a.m. in London, extending a rebound from a nine-month low touched earlier this week. Silver and platinum advanced, while palladium dropped. The Bloomberg Dollar Spot Index was flat after falling 0.3% on Wednesday.
Meanwhile, 10-year Treasury yields hovered around the 1.52% level, as a lukewarm reception for the government bond auction Wednesday was taken in stride. Thursday's $24 billion, 30-year bond auction presents the next test.
Also on Thursday, the European Central Bank holds its monetary policy meeting followed by a briefing by President Christine Lagarde. The ECB's forecasts are likely to justify the current stimulus program with a cautious view that envisages no sustained jump in inflation, according to officials with knowledge of the matter.