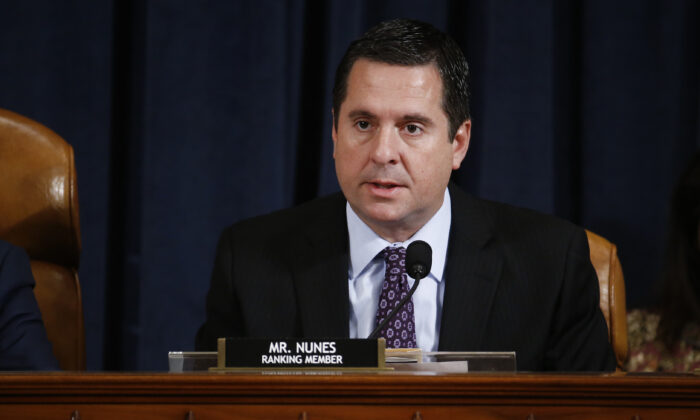 Rep. Devin Nunes (R-Calif.), the ranking Republican on the House Intelligence Committee, is leaving Congress to join a media venture backed by former President Donald Trump, the company said.
"Nunes will be leaving the U.S. House of Representatives and will begin his new role as Chief Executive Officer of TMTG in January 2022," said Trump Media & Technology Group in a news release.
TMTG, a social media startup, and its blank-check company said Saturday that it received a commitment of $1 billion from an unidentified group of donors and investors. Months before that, Trump announced he would create a platform known as "Truth Social" that is expected to be officially launched sometime in 2022.
The news release included comments from both Trump and Nunes, a 10-term congressman, confirming his departure from the House.
"The time has come to reopen the Internet and allow for the free flow of ideas and expression without censorship," Nunes said in confirming the move. "The United States of America made the dream of the Internet a reality and it will be an American company that restores the dream. I'm humbled and honored President Trump has asked me to lead the mission and the world class team that will deliver on this promise."
Nunes also told constituents that he will depart Congress at the end of 2021.
"Recently, I was presented with a new opportunity to fight for the most important issues I believe in. I'm writing to let you know I've decided to pursue this opportunity, and therefore I will be leaving the House of Representatives at the end of 2021," the Republican congressman said.  "Rest assured, I have not, by any means, given up our collective fight—I'll just be pursuing it through other means."
During Trump's tenure in the White House, Nunes was one of his chief congressional allies and defended the president against Democrat-led claims that he colluded with the Russian government during the 2016 election. Nunes also mounted a defense of the commander-in-chief as the House Intelligence Committee, led by Rep. Adam Schiff (D-Calif.), launched an impeachment inquiry into Trump in late 2019.
Earlier this year, following the bans of high-profile individuals on Twitter, Nunes told Newsmax that conservatives need alternatives to the the major social media platforms, which have long been accused of targeting those on the political right.
"We're going to have to get back on social media and stay off the Googles, the Fakebooks, and the Twitters," Nunes remarked. "I think it's happening. I just got my haircut today and everybody there was talking about the challenges with social media and the legacy media."