By Jack Phillips February 21, 2022
Ukrainian officials on Monday denied Moscow's claims that Russian soldiers killed five of its soldiers near the border between the two countries.
A spokesman for Ukraine's military, Pavlo Kovalchuk, said that Russian claims are false.
"I reiterate that the Ukrainian armed forces have not attacked Donetsk and Lugansk, have not sent saboteurs or APCs [armored personnel carriers] across the border, have not shelled Russia's territory or its border checkpoint. All of these are the products of Russia's fakes factory," Kovalchuk told reporters, according to Russian state media.
Meanwhile, Ukraine's Foreign Affairs minister, Dmytro Kuleba, wrote on Twitter that Ukraine didn't attack Donetsk or Luhansk, send APCs or other individuals over the Russian border, shell Russian border areas, or carry out acts of sabotage.
"Russia, stop your fake-producing factory now," he said.
It came after Russian military officials early Monday said five people had been killed when the Ukrainian saboteurs were thwarted. Ukraine and its Western allies have been saying for days that Moscow could manufacture a pretext to invade Ukraine with a huge force it has massed on the border.
Russian military leaders said that "a unit of the Southern Military District, alongside a border patrol by the Russian Federal Security Service, prevented a sabotage and reconnaissance group from violating the Russian state border from the territory of Ukraine," state-backed media reported.
The head of the Russian Federal Security Service, Alexander Bortnikov, told RIA Novosti that a Russian special forces member captured a Ukrainian soldier who was allegedly trying to enter Russia's territory.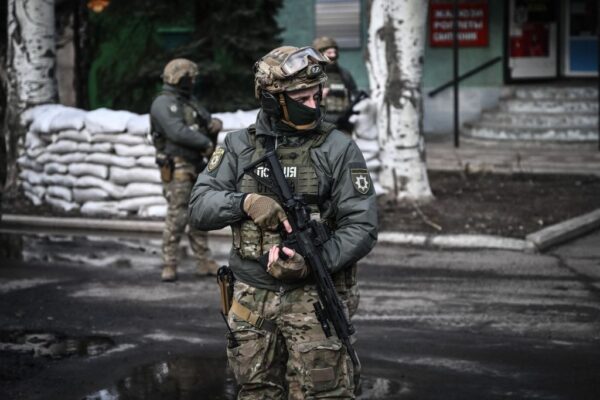 Western countries accuse Russia of planning to invade a neighbor that it had controlled until the Soviet Union collapsed in 1991. Moscow denies planning any attack but has demanded sweeping security guarantees, including a promise that Ukraine will never join NATO.
On Sunday evening, the White House said that President Joe Biden and Russian President Vladimir Putin agreed to "the principle" of a meeting discussing "security and strategic stability in Europe." The meeting will only occur, the White House added, if Russia does not invade Ukraine.
"We are always ready for diplomacy. We are also ready to impose swift and severe consequences should Russia instead choose war. And currently, Russia appears to be continuing preparations for a full-scale assault on Ukraine very soon," press secretary Jen Psaki said.
Kremlin spokesperson Dmitry Peskov said a call or meeting between Putin and Biden could be set up at any time, but there were no concrete plans yet for a summit. Tensions were growing, he said, but a foreign ministers' meeting was possible this week.
Over the weekend, Ukrainian authorities called on the European Union and the United States to impose sanctions on Russia to try and avert a war, which the European Union on Monday rejected.