By Jack Phillips December 143, 2021
SOURCE: THE EPOCH TIMES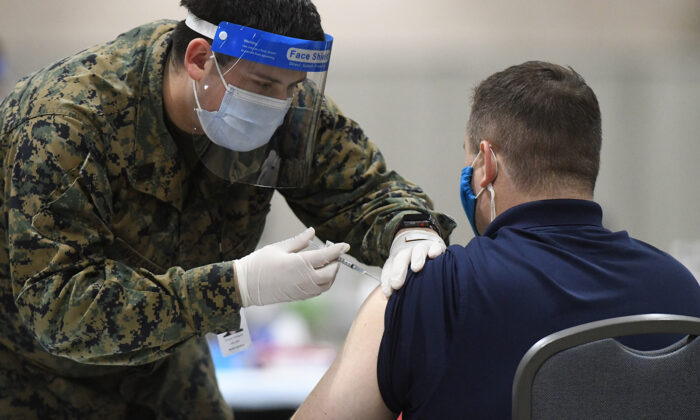 The City of Philadelphia will mandate proof of COVID-19 vaccination for indoor restaurants, bars, and similar venues starting Jan. 3, the city's health commissioner announced on Dec. 13.
"Any place that sells food or drink to be consumed on-site will have to require that everyone who enters be fully vaccinated against COVID-19," Philadelphia Health Commissioner Dr. Cheryl Bettigole said.
From Jan. 3 to Jan. 17, establishments may accept proof of a negative COVID-19 test instead of proof of vaccination, she said.
"That negative COVID test must have been for the last 24 hours," Bettigole said. "Then, after January 17, negative COVID-19 tests will no longer be accepted and everyone must have completed their primary COVID vaccination series."
The mandate also applies to sporting venues, including the Wells Fargo Center; people will have to show proof of vaccination to watch a Philadelphia 76ers or Flyers game, Bettigole said.
"It applies to most of the Wells Fargo Center because people eat throughout the space," she said. "We do not want to close our restaurants. So that's the reason for the vaccine mandate."
Bettigole said that the mandate also will apply to children who are 5 years and 3 months and older. Those children, she added, would have to have their first dose of the vaccine by Jan. 3 and the second by Feb. 3 in order to enter an establishment.
Grocery stores and convenience stores aren't included, she said. The Philadelphia International Airport also is excluded from the mandate, except for the airport's seated restaurants or bars.
Several cities including New York, Los Angeles, and San Francisco, have imposed vaccine mandates, drawing widespread protests.
Critics of vaccine passports say that they essentially create a two-tiered society of vaccinated and unvaccinated individuals. Some have noted that studies have shown vaccines don't necessarily prevent the spread of COVID-19, the illness caused by the CCP (Chinese Communist Party) virus, although health officials said the shots prevent infected individuals from developing severe symptoms.
The mandate announcement comes as acting state Health Secretary Alison Beam will resign at the end of this month.
Gov. Tom Wolf, a Democrat, confirmed on Dec. 13 that Beam, who took over the role in early 2021, is leaving his administration.
"Serving as Acting Secretary during such a critical time in public health has been the most humbling honor of my career," Beam said in a statement. "Under the governor's leadership, the administration has made critical strides in ensuring access to health care for all Pennsylvanians and in turn created a healthier … Commonwealth for generations to come."