By Jack Phillips January 26, 2022 Updated:
After a state Supreme Court judge struck down New York's mask mandate on Monday evening, the state's Department of Education said that schools have to continue to follow the mandate.
"It is [the department's] understanding that the Department of Health will appeal the Nassau County Supreme Court decision, which will result in an automatic stay that will unambiguously restore the mask rule until such time as an appellate court issues a further ruling," the Education Department said in a statement to local media outlets.  "Therefore, schools must continue to follow the mask rule."
The agency pointed to "conflicting rulings" in other lawsuits that resulted in judges upholding the state's mask mandate.
A spokesman with the New York City Department of Education told PIX-11 that students need to attend New York City schools with masks on Tuesday.
"Mandatory masking has also been DOE policy since before the state adopted its mandate, so this decision has no immediate impact on New York City schools," the spokesman said.
Gov. Kathy Hochul, a Democrat, said her administration is planning to appeal the decision, according to a statement from her office on Monday.  New York Attorney General Letitia James' office filed a notice of appeal in the case, according to papers that were filed in court on Tuesday morning.
The Epoch Times has contacted the Department of Education and an attorney representing plaintiffs in the case for comment.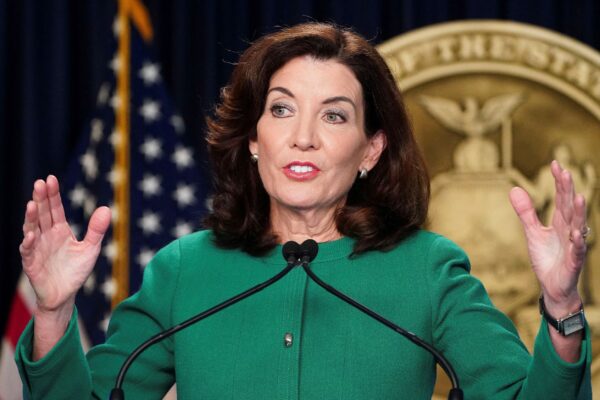 In a statement posted to social media on Tuesday, Michael Demetriou, one of the plaintiffs wrote that students "don't need to wear a mask while they 'may' appeal and any [attorney], mom or dad should slap them with a suit immediately."
He added: "A school board, the [Department of Health] and certainly not some bestfriend of a leader in the Dept of Ed has this authority to do this for the unelected proxy in Albany," referring to Hochul, who took over after former Gov. Andrew Cuomo resigned in August 2021.
On Monday evening, New York Supreme Court Judge Thomas Rademaker wrote (pdf) Hochul doesn't have the authority to impose such a mask mandate for schools and other public spaces because the state legislature would have to approve laws requiring masks.
"Neither the governor nor the state health commissioner had the authority to enact the mandate without the state legislature because Governor Hochul no longer has emergency powers," Rademaker wrote in his order, while adding that the rule is "null, void, and unenforceable."
"There can be no question that every person in this state wishes, wants, and prays that this era of COVID ends soon," the Long Island-based judge added, "and they will surely do their part to see that is accomplished."