By Rita Li April 19, 2022 Updated: April 19, 2022
EPOCH TIMES REPORTS:
A growing number of Democrats are distancing themselves from President Joe Biden's plans to drop a Trump-era immigration policy in late May.
The pandemic-era border restrictions, known as Title 42, were implemented during the Trump administration in March 2020 and resulted in the quick deportations of over 1.7 million asylum seekers at the U.S.–Mexico border in the past two years. The Biden administration has decided to terminate the expulsions policy from May 23, given that public health conditions have changed.
Yet the Biden administration is facing more calls from Democrats for a satisfactory plan to deal with an expected flood of tens of thousands of illegal aliens across the southern border.
"Unless we have a well-thought-out plan, I think it is something that should be revisited and perhaps delayed," Sen. Gary Peters (D-Mich.), who chairs both the Senate Homeland Security and Governmental Affairs Committee and the Senate Democrats' campaign arm, said on April 18.
"I'm going to defer judgment on that until I give the administration the opportunity to fully articulate what that plan is," Peters told reporters in the Capitol, after privately raising concerns with administration officials, including Homeland Security Secretary Alejandro Mayorkas, The Hill reported.
His comments come amid a rising pushback against the administration's decision to lift Title 42, from not only vulnerable Democrats in tough races ahead of this year's midterm elections but also influential senators.
GOP lawmakers are leaning on the public health order as a wedge issue during the November midterms, as polls show the topic to be a leading concern for voters and Biden's handling of immigration his least popular issue.
A majority of 56 percent of registered voters nationwide oppose the decision to lift the Trump-era border control, according to a Morning Consult/Politico poll published earlier this month.
Republicans will likely attack Biden and Democrats for removing the rule in a bid to portray the party as weak on immigration and border security.
Peters, chairing the Democratic Senatorial Campaign Committee, is responsible for at least defending or potentially expanding its current split 50–50 in Senate.
"We should not end Title 42 until we have a detailed plan in place," Pennsylvania Lt. Gov. John Fetterman, a front-runner in the Democratic primary for his state's open U.S. Senate seat, told Politico. "We still need to fix our broken immigration system as a whole."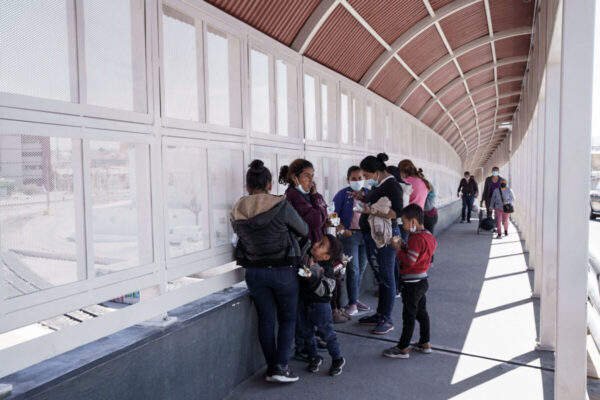 Sens. Mark Kelly (D-Ariz.), Raphael Warnock (D-Ga.), Catherine Cortez Masto (D-Nev.), and Maggie Hassan (D-N.H.), all of whom are on the ballot this November, have stood up against rolling back the Trump-era policy.
"It's going to be a crisis on top of a crisis," Kelly said during his visit to the border last week, doubting the administration's strategy.
Kelly is also one of the senators behind a bill that would not allow the administration to end Title 42 while the national state of emergency is still in effect. The division has gone beyond those up for election in November, with Sens. Joe Manchin (D-W.Va.), Kyrsten Sinema (D-Ariz.), and Jon Tester (D-Mont.), who won't seek reelection until 2024, also signing on.
Biden ally Sen. Chris Coons (D-Del.) told CBS News in an April 17 program that he hoped the decision to lift Title 42 "will be reconsidered appropriately." The senator is part of a group negotiating a $10 billion COVID-19 aid package.
The pandemic-related deal has been tangled in the fight over Title 42 in the Senate. Republicans are refusing to move the bill, pushing for keeping the health policy in place.